Matt O'Desky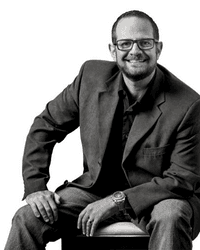 Matt O'Desky has been a dedicated member of the ACGC community for over a decade. In 2022, he joined the Board of Directors, bringing his expertise and passion to help guide the organization toward continued success.
Originally from Chicago, Matt moved to Austin as a child. At 19, he went back to Chicago and worked in the jewelry industry. After eight years, Matt returned to Austin and established The Diamond Room, a highly regarded private, by-appointment-only custom jeweler and diamond broker. The Diamond Room's exceptional services and commitment to quality have fueled its expansion to Dallas. Notably, The Diamond Room proudly offers custom jewelry, including ACGC's own pendant design, fostering a meaningful partnership between the business and the nonprofit.
Matt's dedication to ACGC extends beyond his board membership. For years, he actively participated in ACGC's various campaigns, notably Austin Originals, the organization's esteemed benefit concert. In recognition of his exemplary leadership and The Diamond Room's steadfast support during ACGC's transition back to in-person services and community activities, The Diamond Room was honored with the 2022 Phyllis Richards Icon for Youth Award - ACGC Partner of the Year.
Through his entrepreneurial background, community involvement, and distinguished recognition, Matt O'Desky stands as an invaluable member of the ACGC Board of Directors. His deep understanding of ACGC's programs and initiatives, coupled with his business acumen, ensures a holistic approach to furthering the organization's mission and positively impacting the lives of children and families in need.