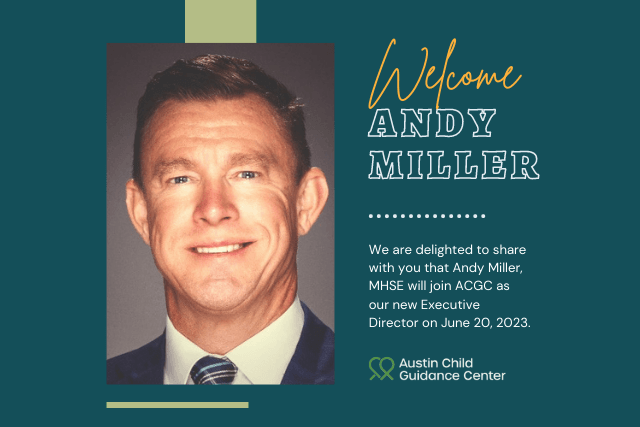 We are delighted to announce that Andy Miller, MHSE will serve as ACGC's new Executive Director. A public "meet-and-greet" with Andy will be held at Austin Child Guidance Center (810 W 45th Street, Austin, TX 78751) on July 19, 2023, from 8:30 a.m.- 9:30 a.m. Click HERE to confirm attendance.

ACGC's board and search committee have chosen Andy as the ideal candidate to build upon ACGC's legacy of service and drive meaningful progress in mental health outcomes for children and families in Central Texas.
"The ACGC Board is thrilled to welcome Andy Miller to the organization. He is a proven executive leader with deep community connections and experience in the mental health space. We have every confidence that ACGC's clients and staff will be well-served by his leadership and look forward to working closely with him in furthering ACGC's mission," says ACGC Board Member and Search Committee Chair Laura Rea.
Andy's deep understanding of ACGC's mission stems from his personal experience as a father benefiting from ACGC's caregiver support programs. Furthermore, his background in public health practices and his involvement with non-profits have given him valuable insights into the health inequities and limited access to care faced by many of our clients.
Andy previously served as Chief Strategy and Impact Officer at the Texas Health Institute and possesses 25 years of experience growing organizations including Any Baby Can, Livestrong, and The Morris Foundation, through the implementation of innovative practices, programs, and strategies. Active in the Austin nonprofit community, he has built and led teams to run aid, educational, and clinical programs. He has implemented grant-making strategies alongside marketing and fundraising efforts, managed budgets as large as $45 million, and built community networks such as the Ready Families Collaborative. Andy's leadership is known for fostering a culture of connectivity, learning, and collaboration.
ACGC is excited to have Andy Miller serving as the new Executive Director as he is a great match for the work, staff, and friends of our organization. Together we will continue to advance our mission of improving the mental health of children and their families.