Thrive Podcast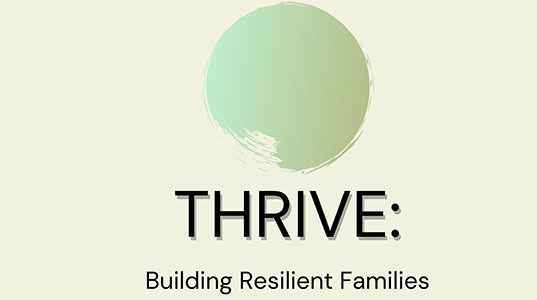 THRIVE: Building Resilient Families.
Created to normalize the challenges of raising children, this short 20-minute podcast features meaningful conversations, tips and resources with parents and professionals dedicated to helping children of all ages thrive in childhood and beyond. 
Tune in every other Thursday for the latest episode available through Austin Child Guidance Center, as well as Spotify and Apple Podcasts.
December 30, 2021
In this episode, Taylor Nichols shares with us her daughter's adoption story, including her daughter's perspective of the story. Despite having a quick adoption process, the journey for their family is ongoing. From the joy of having a new family member to getting insensitive questions from other individuals, Taylor talks about it all, and what she and her family have learned together so far.
---
December 16, 2021
Dr. Roberto Rodriguez, a board member for ACGC, joins us today to talk about his various work experiences as a pediatrician. He shares his take on telemedicine usage to engage with children and its future in health services. Dr. Rodriguez also tells us his observations about the impact of COVID-19 on children's mental health and about the accessibility to mental health resources.
---
December 2, 2021
In this episode, Dr. Sanam Hafeez joins us from Comprehensive Consultation Psychological Services in New York. Dr. Hafeez shares with us her journey and experience working with families and advocacy for mental health as well as her take on how our understanding of mental health has changed over recent years thanks to the increased usage of social media and the emergence of COVID-19. As mental health becomes a more valued and discussed topic today, Dr. Hafeez reminds us that getting a psychological assessment is important and that mental health professionals can help you navigate how to take care of your mental well-being.
---
November 11, 2021
Author Tami Overhauser shares her passion for helping women thrive and be the best versions of themselves, especially mothers. Kristen talks with her about her book, The Strong-Willed Mama: Surviving and Thriving Raising Strong-Willed Children, and her work as a mentor and public speaker. Driven by her experience as a mother of four children and faith, Tami's main message to parents is that life is tough, but so are you.
---
October 14, 2021
In this episode, William Pugh, from Georgetown Behavioral Health talks about his career journey to his work in Georgetown, TX.  With his diverse career experience and passion for mental health, William shares his perspective on today's view of mental well-being, how the community can continue to support their child's mental health, and resources available in Central Texas. ­­
---
September 30, 2021
In this episode, college-senior Sierra Burton breaks down her roles as a military dependent. She highlights the struggles military children face in all stages of childhood and gives her perspective on the vast differences of military life and civilian life. She and her brother became, rather quickly, adult-like figures with the responsibility of taking care of their younger siblings while their parents were training. She credits these experiences for her ability to easily adapt today.
---
September 16, 2021
In this episode Scott Van Camp, LMSW, Director of Therapy Services at ACGC talks with Kristen about the role of family therapy in children's mental health care. He underscores the importance of trust between therapist and family, and likens inter-family counseling to assembling a puzzle. Additionally, Van Camp compares individual therapy to family therapy, highlighting the differences and benefits of each.  
---
September 2, 2021
In this episode, we speak with Tameka Thompson, LPC about her work as ACGC's Infant and Early Childhood Therapist. Join us as we discuss which factors catalyze stress for kids today, how such stress and anxiety presents itself, and what caregivers can do to best help their infants, toddlers, and young children.
---
August 19, 2021
In this episode, we speak with Michael Perkins, chief of schools for Manor ISD, about the upcoming school year amidst another pandemic-affected year. Join us as we discuss Michael's role, concerns for the new school year as the delta variant surges, and how Manor ISD, and other school districts, will work with the community to ensure the physical and mental well-being of your children.
---
August 5, 2021
It's important for parents to practice self-care and mindfulness in order to remain calm and be able to navigate the day-to-day challenges of parenthood. Celeste the Therapist joins us this week to discuss parenting tips and the importance of listening to your child, even if you don't always understand them.
---
July 22, 2021
Given the extensive amount of attention placed on body size and dieting in our society, we spend time talking to Dr. Ebony about one's relationship with food and their bodies. Join us as talk about helping children recover from the pressures of a diet culture while empowering them to develop a healthy relationship with food.
---
July 8, 2021
In today's episode, Kristen Pierce-Vreeke talks with Sheri Rider Jobe about her experience as an educator and a parent. Jobe has dedicated more than twenty years of her career in education in key leadership positions and a passionate advocate for the inclusion and representation of ESL students in our schools.
Additional Information:
Resource Guide For Working With ESL Students
NASP: Understanding Race and Privilege
---
June 24, 2021
On this episode, we speak with the Director of Case Management at Vivent Health to discuss the shift in conversation surrounding HIV and AIDS and how LGBTQ youth can stay safe and protected. 
---
June 10, 2021
On this episode, we speak with the director of therapy services at ACGC about what therapy is and the benefits that both you and your child can receive from counseling services. 
Note: If your child is in immediate danger call 911 or the suicide prevention hotline at 800-273-8255.
Additional information:
Learn About Children's Mental Health
Guide to Mental Health Specialists
---
May 27, 2021
Ep. 1: Raising a Trans Child: The Realities and The Rewards
On this episode, we speak with the mother of a transgender child about the unique challenges and rewards that come with parenting a transgender child strategies for other parents whose families may be facing similar journeys.