Trauma-Informed Care
Austin Child Guidance Center is one of the first agencies in Central Texas to become trauma-informed. Trauma-informed agencies go beyond just providing evidenced-based treatments for trauma. The Substance Abuse and Mental Health Services Administration defines trauma informed care: "When a human service program takes the step to become trauma-informed, every part of its organization, management, and service delivery system is assessed and potentially modified to include a basic understanding of how trauma affects the life of an individual seeking services. Trauma-informed organizations, programs, and services are based on an understanding of the vulnerabilities or triggers of trauma survivors that traditional service delivery approaches may exacerbate, so that these services and programs can be more supportive and avoid re-traumatization."
Through a year-long process, ACGC changed our systems of care, to reduce that chance of children and families becoming re-victimized while seeking services at the center. ACGC's services are provided to children and families with six values in mind: safety, trustworthiness, collaboration, choice, empowerment, and cultural inclusivity. ACGC also provides universal screening for trauma, evidenced-based treatments, support for providers, and a safe and warm environment, so that families can begin the healing process.
Evidenced-based treatments for trauma: ACGC is one of the only organizations that offers certified trauma-focused cognitive behavioral therapy (TF-CBT). TF-CBT is the most research supported treatment for trauma for children six and older. Additionally, clinicians are trained on interventions such as parent-child interaction therapy (PCIT). Other treatments are offered at the center, that focus specifically on the family's needs and based on their choice of intervention.
To bring trauma-informed practices to others in our community, Austin Child Guidance Center established the Trauma Informed Care Consortium of Central Texas (TICC) in 2013 with funding from St. David's Foundation.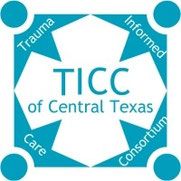 TICC, led by Austin Child Guidance Center, brings together professional organizations throughout Central Texas to address the trauma needs of children and families. TICC is made up of over 60 community partners from a variety of professions: mental health clinicians, school personnel, medical/nursing professionals, occupational/physical therapists, law enforcement, and juvenile justice professionals. The consortium meets quarterly to network, share information, coordinate trainings, as well as to create a trauma-informed newsletter and maintain the www.traumatexas.com website.
In addition, ACGC provides trainings to organizations and groups on trauma and trauma-informed care.
TICC also spearheads the Trauma-Informed Organizational Readiness Survey to assess organizational change in our community in terms of trauma screening, the provision of evidence-based trauma treatments, and protections against secondary trauma. TICC also presents The Cross-Discipline Trauma Conference of Central Texas.