Children's Healing Garden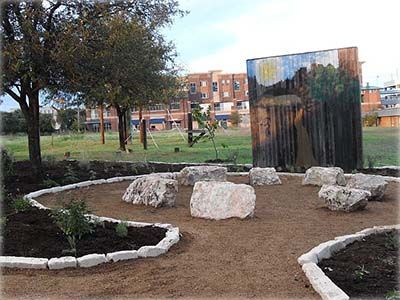 For 21 years, ACGC has occupied a three-acre lot on the northeast corner of Lamar Blvd. and 45th Street. Much of the land leaves an unremarkable impression on those who pass.
The motivation for the Children's Healing Garden is an effort to transform this space into an attractive, welcoming, and functional outdoor area.
The garden will provide a space for relaxation and therapeutic healing for children and families that are often experiencing grief, trauma, abuse, neglect, phobias, and parent-child relationship issues.
The outdoor space will be used to:
Beautify the neighborhood;
Hold outdoor therapeutic groups and individual/family therapy sessions;
Provide private space for families to reflect on their therapy sessions;
Educate families about native plants and organic gardening;
Provide rest and relaxation for therapists and staff; and
Provide an outdoor alternative to the traditional indoor waiting room.
If you are interested in being a part of this vision to transform our outdoor space, please fill out our volunteer application form.