Kristen Pierce-Vreeke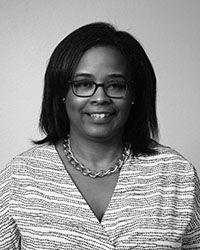 Kristen Pierce-Vreeke, LMFT-S is the 8th Executive Director and the first woman and person of color to lead Austin Child Guidance Center. Previously she served as the Director of Counseling Services at Catholic Charities of Central Texas. With nearly 20 years of clinical and nonprofit leadership experience, Kristen has a proven track record of building and leading teams, growing revenue, streamlining operations, and working with fundraising teams to develop marketing and outreach strategies, build partnerships, and identify grant opportunities to increase financial resources to expand services; while maintaining high-level client centered mental health services.
In her first 18 months at ACGC Kristen has helped restructure and improve board of director meeting and board member engagement, implemented a new agency electric health record system and completed a new three year strategic plan. In the wake of the COVID-19 pandemic, when the ACGC staff began working remotely Kristen and her leadership team were able pivot quickly to using a tele-therapy platform to provide the most comprehensive services to our clients. In her capacity at Catholic Charities Kristen led a team of counselors, administrative staff, student interns and agency volunteers. During her tenure at Catholic Charities, the service delivery of the Counseling Services program expanded exponentially, growing from 500 counseling sessions in FY 2016 to 3,557 sessions in FY 2018; a 49 percent increase over FY 2017. In addition, Kristen developed and executed a strategic plan for the Counseling Services Program which included expanding services to Bryan, TX, providing clinical services using tele-therapy, and the acceptance of Medicaid and Tricare for low-income and military families.
Under Kristen's leadership the counseling services program was a participant in 2017 Philanthropitch event and was a finalist with the Mission Capital Accelerator. In 2018 Catholic Charities USA awarded Kristen's team the Social Innovation Award for integrating tele-therapy into their service delivery platform.
Prior to her work with Catholic Charities, Kristen served as the Clinical Director for Center for Survivors of Torture, providing mental health services to refugees and asylum seekers, operated a private practice in Westlake and served in various leadership capacities in organizations in Connecticut where she resided before moving to Texas. Kristen has a B.A. in English from Hampton University, and a M.A. in Marriage and Family Therapy from Fairfield University. She is a Texas Board and AAMFT Approved Supervisor and is passionate about her work and her family.