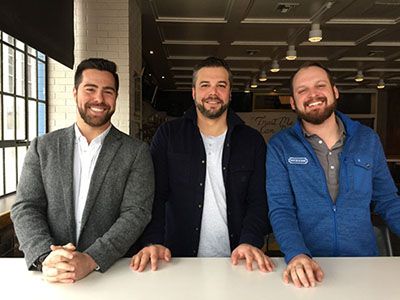 AUSTIN, TX – February 7, 2019 – Founder/owners Ben Farias, Jason Gonzales, and Matt Wolski of Lion's Share Hospitality (LSH) -- an umbrella company for downtown hangout spots Parlor & Yard and Stereotype-- have committed to raising $5,000 for Austin Child Guidance Center in "A Tour of Austin" campaign.
A Tour of Austin (ATOA) was conceptualized and created by co-chair Ashleigh Raymond and the development team at Austin Child Guidance Center.  Each month of 2019 the campaign features a businesses or entrepreneur that has pledged to raising $5K for out-patient mental health services for children at Austin Child Guidance Center.
"Mental health is such an under-served and under-focused issue across the country...especially for the at-risk community. There's no better way to tackle these issues... than at a young age," says Ben Farias. Jason Gonzales adds, "I know having a place like ACGC where kids can grow and develop is important, and we [at Lions Share Hospitality] would love to give back." 
LSH is giving back by hosting ACGC's Amplify Austin Watch Party on February 28th, 2019 from 6p-9p at Parlor & Yard and by donating $1 from every "Hometown Mule" beverage purchased until $5K is reached.  Proceeds will ensure child clients at ACGC continue receiving vital out-patient mental health care services.
Austin Child Guidance Center is excited and thankful to Parlor & Yard and Lion's Share Hospitality for supporting the important work of our agency. 
For more information please visit A Tour Of Austin page.