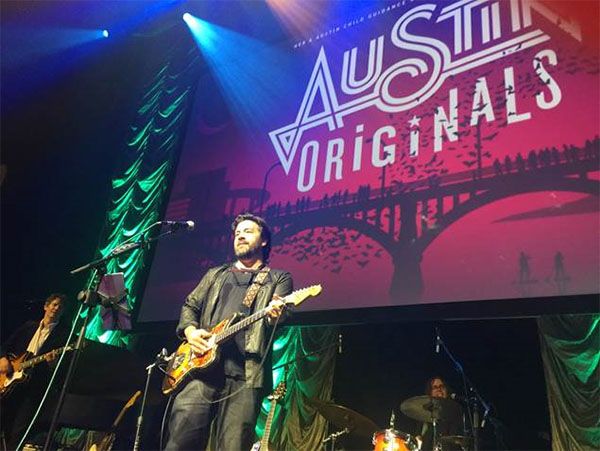 Funds raised during 7th Annual Austin Originals Benefit Concert will provide support for children's mental health services at Austin Child Guidance Center.

Together with community supporters, local businesses, musicians, and mental health advocates, the 7th Annual Austin Originals Benefit Concert & Live Stream raised $548,325 on Saturday, August 18, 2018 at ACL Live at the Moody Theater.  Monies raised provide support for quality mental health services for children and their families regardless of their ability to pay at Austin Child Guidance Center (ACGC).
Trevor Scott presented the Phyllis Richards Austin Icon for Children Award to two individuals commended for their dedication to improving the lives of children. 
Winner of the award in the Community Activist Category is Beth Misner, honored for her work at BNI Foundation and Misner Family Foundation where she mobilizes resources to provide kids with a quality education everywhere.  
Isabel Huerta won the award in the category of Community Professional for her work as Founder of Sammy's House—a non-profit organization that services special needs kids and their families in Central Texas.
The evening's program was led by emcee Terry Lickona, long-time producer of Austin City Limits, and included guest speakers Colin Pope of Austin Business Journal; Geronimo Rodriguez of Seton Healthcare Family/Dell Children's; and Austin Originals 2018 Co-chairs Andrea Ames of A&D Insurance and Madeline Hollern of Austin Monthly Magazine. 
TourGigs broadcasted the evening live on ACGC's Facebook page reaching thousands nationwide. Musical performances included Suzanna Choffel and five-piece string ensemble performing original composition "If You Could Help Me," a song written by Casey McPherson dedicated to ACGC's mission. The night concluded with a heart-felt and energetic performance from Bob Schneider. 
The Austin Originals Tasting Grove provided food bites from 11 Austin restaurants and caterers. Italian kitchen and wine bar, Gusto, won "best choice" by popular vote. Heath Hale and his team of Cowboy Auctioneers successfully raised funds for ACGC during live auction portion of the night's program.
A recording of the live stream is available for viewing on our Austin Child Guidance Center Facebook page.