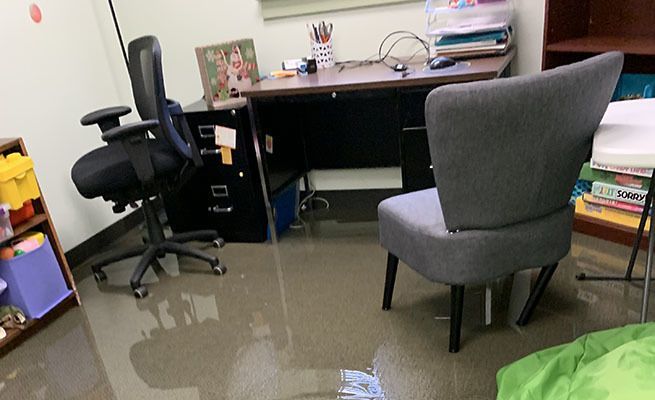 Austin Child Guidance Center (ACGC) sustained significant water damage during the February 2021 winter storms. Like so many homes and business across the state, the boiler and pipes in our 33 year-old building burst at some point during the freeze. 

When staff was able to safely make it to the building after the storm, they were greeted by broken pipes, water gushing from the ceiling, standing water in the therapy rooms and administrative offices, water-logged supplies and therapy materials.  After calling emergency services, dedicated members of the Austin Fire Department turned off our water and graciously helped remove some of the water and make sure the building was safe and secure.  
Building A Resilient Mental Health Community
As we move through the renovation process, the Board of Directors and staff at ACGC are approaching this as an opportunity to provide excellent care and treatment for children and families, as well as create a safe, welcoming and equitable space that meets the needs of our growing community once we return to in person service provision. 
Our priorities as we enter into the renovation process are as follows: 
1.    Provide uninterrupted mental health care to young people and their families. While the building is under construction, care and treatment services, training events, and community awareness programs will continue to take place online. 

2.    Creating a safe, welcoming and inclusive environment for young clients, their families, ACGC staff and the wider community. 
3.    Invest in the future of ACGC by updating the infrastructure of the building in the context of a rapidly growing and changing community. 
 
How You Can Help
Your investment in the mental health of young people in Central Texas makes a difference. 
1.    Make a gift to the ACGC Renovation Fund. This will allow us to meet the additional expenses associated with this damage that will not be covered by insurance while continuing to provide uninterrupted mental health care to our clients. 
2.    Sign up to be added to the volunteer list. We will contact you with opportunities for work days throughout the process.  
If you have questions or would like to learn more about this project or how you can best support our work, please contact our Development Office at development@austinchildguidance.org