Become an ACGC Voices for Children Giving Society member today
Since 1951, the Austin Child Guidance Center (ACGC) has been a leading provider of affordable, quality mental health services for under-served children and families.  With your pledge, you will ensure that a family's finances are never a barrier to care.  As an ACGC Voices for Children Giving Society member, you will help children and our community flourish.
65% of people report experiencing one or more adverse childhood experiences (ACEs) such as emotional, physical, and sexual abuse* 
Multiple ACEs are correlated with negative health outcomes including increased risk of heart disease, cancer, and major mental health issues*
Left untreated, childhood mental health disorders are likely to persist and lead to a downward spiral of school failure, limited job opportunities and poverty as adults.
Suicide is the 3rd leading cause of death in youth ages 10-24•
Member Benefits
You are investing in the future, so no child seeking care will be turned away
Your generosity will be recognized on/at:
 - ACGC Voices for Children Giving Society (VCGS) tree
 - ACGC VCGS website (below)
 - Events
 - Annual report
Invites to exclusive ACGC giving society events for you and your friends
Invites to annual coffee meetings with ACGC's Executive Director, Kristen Pierce-Vreeke
ACGC Voices for Children Lapel Pin
Tax deductions for 100% of your ACGC VCGS contributions.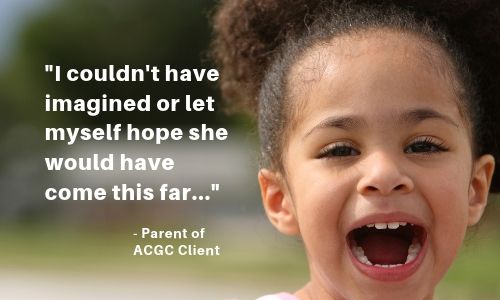 At just $84 per month, you can make a difference in the lives of children forever.  Giving society membership involves pledging to support Austin Child Guidance Center at an amount of $1,000 to $10,000 annually for three or more years, active from the date of the pledge.

Thank you to our ACGC Voices for Children Giving Society members who are making a difference today:
Honorary Chair: Kendall Antonelli
Amiee & Ed Cunningham
Andy Krupp
Ann B. McIver
Annmarie and Jerry and Aksland
Beth Marsh
Brenda Barrett
Cynthia Treglia and Dr. James Maynard
Deanna Brittain
Denise Hoos
Diane and Calvin Streeter
Dolly and Ed  Golden
Dr. Kevin and Dr. Anne Spencer
Elizabeth Crook and Marc Lewis Foundation
Eric & Jessica Boston
Felicia and Alan Reed
Frank Schubert
Irene & Alex    Shoghi
Jain and Scott Thompson
Jill and Russell Smith
John Dickerson
John Harcourt and Sue Ellen Stavrand
Kali & Dan Rourke
Katy Hackerman and Corky Logue
Kelly and Richard Topfer
Kendall and John Antonelli
Kristin and Richard Pushkin
Laura and Billy Tweedie
Laura and Eagle Robinson
Libby and Lloyd Doggett
Lisa Degraff
Maggie Coleman and John Knowles
Margene and Pat Beckham
Mary and Steve Knight
Maxine Roberts
Melanie Walter-Mahoney
Michael and Renee Hanson Malone
Michelle and Gregg Philipson
Miriam and David Zodikoff
Molly and Tom Copa
Nancy Abraham 
Nici Huff
Paula and Lee Aaronson
Randy Sabbagh and John Shearer
Ross and Tami Anders
Ryan & Jennifer Jamison
Sarah Swords
Sharon and Bob Guess
Sondra and Keenan Lehmann
Studio 8 Architects
Tatiana    Calliham
Topfer Family Foundation
Vicki Roberts