Seanna Crosbie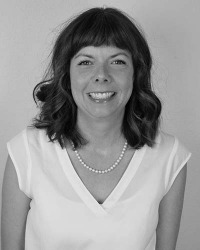 Seanna Crosbie, LCSW is the Director of Program and Trauma-Informed Services and has been with ACGC since 2001. In her current role, she oversees the therapeutic services/staff and provides leadership for ACGC's trauma-informed initiatives. Seanna, a certified trauma-focused cognitive behavioral therapist (TF-CBT), has extensive experience providing mental health treatment to children and families; her area of expertise is evidenced-based treatments for children impacted by trauma and abuse as well as working with mandated populations. Seanna, who grew up in Saudi Arabia, also has a passion for multi-cultural counseling.
Seanna initiated and led Austin Child Guidance Center in becoming one of the first trauma-informed agencies in Central Texas.
She has trained nearly a 2,500 professionals on trauma-informed care and has presented at both local and statewide conferences on a variety topics including: implementation of trauma-informed care within complex delivery systems, trauma-informed schools, how trauma impacts the developing brain as well as TF-CBT and other trauma treatments. She is the chair and founder of Trauma-Informed Care Consortium (TICC) of Central Texas (www.traumatexas.com) which is comprised of nearly 70 child-serving agencies.
She is the past co-chair of the Children and Youth Mental Health Planning Partnership and participates on six child-serving partnerships and collaboratives. Additionally, she serves as the vice president on board of directors for YWCA Greater Austin. In her spare time, Seanna enjoys spending time with her dogs, yoga, cooking and travel.