Seanna Crosbie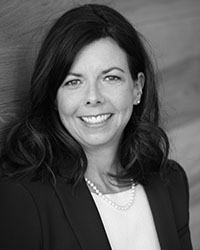 Seanna Crosbie, LCSW-S is the Director of Program & Trauma-Informed Services and has been with ACGC since 2001. In her current role, she oversees the Center's therapy projects and staff as well as provides leadership for ACGC's trauma-informed initiatives.
Seanna, a certified trauma-focused cognitive behavioral therapist (TF-CBT), has nearly 20 years of experience providing mental health treatment to children and families. Her areas of expertise included evidenced-based treatments for anxiety, depression, and trauma as well as working with mandated populations. Seanna, who grew up in Saudi Arabia, also has a passion for multi-cultural counseling.
Seanna initiated and led Austin Child Guidance Center in becoming one of the first trauma-informed agencies in Central Texas. She has continued the Center's trauma-informed efforts with the National Council for Behavioral Health's Trauma-Informed Learning Community, focusing on staff wellness and client voice. She spearheads the planning of ACGC's Cross-Discipline Trauma Conference of Central Texas as well.
Seanna has trained nearly 5,000 professionals on trauma-informed care and has presented at both local and statewide conferences on a variety topics including: implementation of trauma-informed care within complex delivery systems, understanding how trauma impacts the developing brain as well as TF-CBT and other trauma treatments. She is Chair and Founder of Trauma-Informed Care Consortium (TICC) of Central Texas (www.traumatexas.com) which is comprised of nearly 70 child-serving agencies. Seanna also represents ACGC is several partnerships and collaborations. She is the past Co-Chair of the Children and Youth Mental Health Planning Partnership and participates on six child-serving partnerships and collaboratives. In her spare time, Seanna enjoys spending time with her family and dogs. She loves live music, yoga, cooking and travel.