Renée Hanson Malone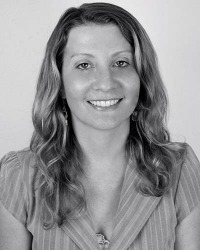 Renée Hanson Malone, MA, Director of Development, joined Austin Child Guidance Center in January of 2011. In this position she directs all fundraising and communication activities for the agency.
She has over ten years of fundraising experience, raising millions of dollars for various local non-profits. Her greatest strengths are: donor development, corporate giving, special events, grant writing, program development, marketing and public relations. Prior to her employment at ACGC, she was the Grants Development Specialist at Easter Seals Central Texas, and served as Education Program Director and Grant Writer for Manos de Cristo. Renée received her M.A. in Latin American Studies and was employed as a Lecturer by the Latin American Studies and Spanish Departments at the University of Kansas.
She is bilingual and has traveled extensively throughout Latin America. She has a rich understanding of Latino culture and much of her work in Austin has been dedicated to expanding resources for the Hispanic community. Renee has been a member of Impact Austin since 2015 and served as lead in the international matching grants program for the Rotary Club of Austin downtown. She currently serves on the Board of Directors of Vela, Austin Cops for Charities and is the Board President for LOLA-Local Opera Local Artists.