Julia Hoke, Ph.D.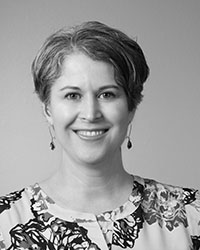 Julia Hoke, Ph.D., Director of Psychological Services, has a 19-year history with the Austin Child Guidance Center. Her introduction to ACGC came in 1997 when, as a first-year graduate student at UT-Austin, she volunteered as a "play leader".
Julia returned in 1999 as a practicum student and again in 2002 as a pre-doctoral psychology intern. She earned her Doctorate in Educational Psychology from the University of Texas. After five years providing assessment and consultation services in public schools, Julia returned to the center in 2007 on a contract basis, providing psychological assessment to children and adolescents.
In 2008, she joined the staff at the center, and in 2011, she became Director of Psychological Services.
While continuing to provide psychological assessment, Julia also serves as a child and family therapist, supervises trainees, and coordinates a weekly "student seminar" for all trainees at the center. As the Director of Psychological Services, she supervises staff and contract psychologists, psychology students, and trainees; coordinates the provision of psychological assessment at the center; and provides psychological consultation to other clinicians on staff. Julia is passionate about providing psychological services to low-income and other underserved populations. She continuously seeks to improve the quality of the services her staff provides, believing that a quality psychological assessment serves as an intervention in itself and opens the door for other important interventions. Julia enjoys teaching and supervision, and in the past, she has taught assessment and practicum classes to master's-level psychology students at Texas State University.