ACGC's Tiny "School" Desk Concert

To mark the start of the school year, Austin Child Guidance Center is hosting an Online Back to School Party on August 21 and we are inviting STUDENTS to join the fun!
Students from Kindergarten through High School were invited to submit an entry to our version of NPR's Tiny Desk Concert Series. Our panel of local judges will choose the winner from two categories: Solo Artist and Duo/Band. The winner will be invited to perform at our Online Back to School Party on August 21, 2020 and be featured at our 9th Annual Austin Originals Benefit Concert.
The winner will be announced during the live stream of our Online Back to School Party on August 21, 2020.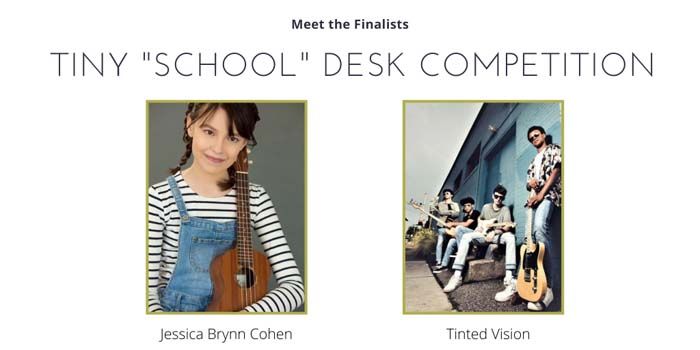 Jessica Brynn Cohen performing her original piece Beautiful Thing.
Tinted Vision performing their original piece Stand Alone.
Meet The Judges
Andra LiemandtAndra is the founder and CEO of The Kindness Campaign, a nonprofit that provides emotional health tools beginning at age 3. Launched in 2015, TKC's acclaimed SEL (social emotional learning) curriculum and programs serve schools and families, utilizing storytelling, creative arts, play and self-reflection. Under Andra's leadership, TKC's reach grew from five schools to 82 in two years, serving over 40,000 students.

Today, TKC has scaled to a national platform, serving students nationwide with innovative virtual and in-person offerings. Since its inception, the organization has partnered with Kendra Scott, Just Keep Livin' Foundation, Bumble, Bryan Anthonys, Nordstrom, Lady Gaga's Born This Way Foundation and many more to bring emotional health tools to children from all walks of life.

After a career in large corporate account management and pharmaceutical sales at Dell Inc. and Abbott Laboratories, Andra pivoted to philanthropy and the nonprofit sector. Now a national speaker on kindness and bullying, Andra has given keynote addresses for AT&T and IBM conferences, Paul Mitchell Schools nationwide, and the National Charity League. She is a recipient of Austin Woman's Way Business Award for Social Impact (2018), and was a finalist for the Phyllis Richards Austin Icon for Children Award (2018). An active philanthropist, Andra currently serves on the Girl Scouts of Central Texas 2019 Women of Distinction Committee, and is on the advisory board of Baylor Scott & White Health. In 2015, Andra was named Cover Woman for Austin Woman Magazine's September Edition, and in 2018, she joined the board of the GRAMMY Museum.

Andra is also the founder and drummer for The Mrs, a pop-rock band that has appeared on "Good Morning America," "The Queen Latifah Show," Buzzfeed, People Magazine, and Billboard. Their first music video, released in 2014 and featuring their signature "Magic Mirror," currently has 5.4 million views on YouTube. Since then, The Mrs has shared the stage with Maroon 5 and Jon Bon Jovi, and has enjoyed musical collaborations with Paul Oakenfold and more. Connect with Andra by visiting TheMrs.com and tkckindness.org or on Instagram @tkckindness @themrsband.

William Jackson, MBAWilliam is a transformational executive leader with foresight and imagination with an impressive history in accounting, business operations, communications, compliance, governance, journalism, marketing strategies, public speaking, and process improvement. He has a consistent record of positioning organizations for success, spurring revenue growth, and initiating improvements that demonstrate profound dedication to customer engagement.

William earned his impeccable reputation as a leader by focusing on three fundamental priorities: delivering engaging customer experience, surpassing ambitious financial goals, and building top-performing teams. Whether directly leading organizations or spearheading projects to improve performance, he plays an integral role in developing high-performance organizations, in various industries, across the United States.

William has championed systems design and implementation projects for several high profile for profit and non-profit organizations. In his role as secretary to the Boards of Seton Accountable Care Organization, Inc., Seton Health Alliance, and Dell Children's Health Alliance, he developed and managed meeting agendas and provided a range of effective administrative support, including the development and implementation of policies and procedures.

William's volunteer commitment to the region is exceptional, having provided verifiable support to a wide range of local social service organizations. He has served on the Board of Directors and Finance Committee and was appointed Community Ambassador of Public Relations of the oldest non-profit in the area — Austin Child Guidance Center. He was also appointed a member of the Board of Directors of Austin-based Soccer Assist. With a passion for and long history of leading and developing people, as a talent maximizer, he has recruited and developed team members across all levels and regularly mentors junior professionals.

Natalie HowardNatalie Joy is a full lyric soprano, actor, and vocal music teacher, based in the Austin area. She has performed numerous operatic roles, including the title role in Pucinni's Suor Angelica and Erste Dame in Mozart's Die Zauberflöte, and most recently, she sang "the Socorress" in LOLA's presentation of Dido and Aeneas in early 2020. In addition, Ms. Joy has performed several recitals, including headlining a house concert presented by Panoramic Voices. Ms. Joy also appeared as an Emerging Artist with the 2019 Victoria Bach Festival. In addition, to singing, Ms. Joy enjoys a blossoming acting career and will be seen in the Netflix premiere of Apollo 10 ½ directed Richard Linklater as "the Music Teacher".

Ms. Joy has competed in several competitions and has placed second in the National Association of Negro Musicians Southwestern Region Competition and received a finalist award in the Houston Saengerbund Vocal Competition in 2019.

She received her Bachelor of Music from Illinois Wesleyan University under the tutelage of Dr. Carren Moham and Dr. Jamie-Rose Guarrine. She received a Master's degree in Opera Performance from the University of Texas at Austin under the instruction of Darlene Wiley. Connect with her on Instagram @natalietellsstories.

Dan RedmanDan is the founder and CEO of Mosaic Sound Collective, a creative hub in East Austin with resources that include recording studios, rehearsal space, video production, performance space, podcast studios, gear rental, video game audio, education programs, and much more. Mosaic is also home to several nonprofits, and several of Austin's top bands. Connect with Dan on Instagram @mosaicsoundcollective or visit www.mosaicsoundcollective.com.